Articulate Storyline is the industry's favourite software for creating interactive courses. It's simple enough for beginners, yet powerful enough for experts. And it lets you create virtually any interaction you can imagine, in minutes. With the new perpetual version of Storyline, you'll be able to deliver mobile and accessible courses with enhanced interactivity faster.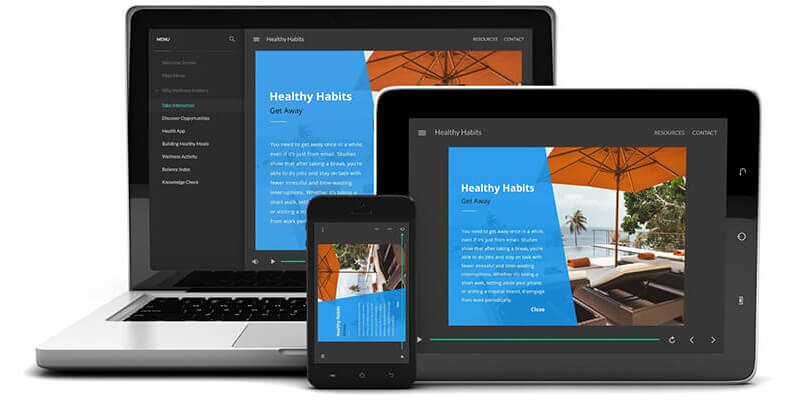 With its familiar user interface and highly intuitive features, Articulate Storyline works the way you expect. Build your slides from scratch or use a template... the choice is yours.
It's easy to add more than 47,500 combinations of characters, expressions and poses to your course, no need to hunt for art online. With just a few clicks, you can insert characters, then change their poses and expressions to meet your needs.
Storyline grows with you. Beginners get the simplicity they need, while power users can exploit advanced features offering high levels of interactivity and customisation.
Build interactivity with intuitive, easy-to-use features
Use Articulate Storyline to create interactivity with unrivalled ease using Slide Layers, Triggers, and States. Slide Layers make it simple to overlay objects in a slide. Give your course a dynamic feel with States, making objects react to a learner's actions. Set a button to change colour after it's visited, or change the expression of a character when a learner clicks the wrong object. The possibilities are endless!
As your needs and skills grow, take advantage of advanced features for building interactivity and present dynamic content based on a learner's activity and other conditions you define.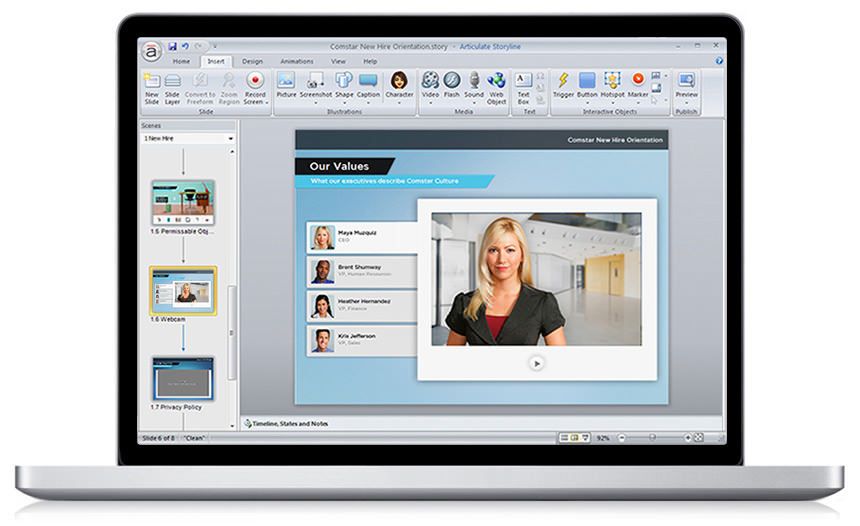 Get all the eLearning authoring functionality you want - in a single, intuitive tool
Quizzing

Articulate Storyline makes it easier than ever to create 20 different types of questions. The simple yet powerful quizzing tool also includes advanced functionality for power users, including question pooling, randomization, and the ability to score a learner's progress at multiple points in the course.

Screen recording and software simulation

Record screen activity to show learners exactly what you want them to grasp. Record your screen session once and Storyline will automatically segment your activity into multiple step-by-step tutorials. With software simulation, you can let learners watch how to do a task in View Mode, try the task in Try Mode, and assess their ability to complete the task in Test Mode.

Drag-and-drop interactions

Creating a drag-and-drop interaction has never been easier. Simply add objects to your slide then assign drag items and drop targets using the form-based editor.

Customisable player

Meet brand requirements by adjusting colours, fonts, and position of elements. Choose which tabs to show, add your logo, and customise the language of menu labels.

Publish to HTML5 and mobile

Build your course once, then publish it with a single click to multiple formats. View content via Flash, HTML5 or mobile devices with the Articulate Player mobile app.
Benefit from the powerful support of the industry's largest, most active community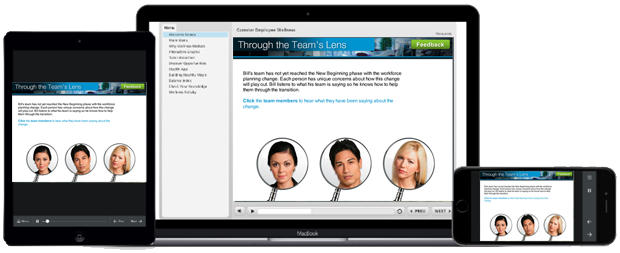 Some of the most widely recognized thought leaders in eLearning curate the Articulate community.
Watch tutorials geared to both casual and power users. Get practical, real-world tips, free downloads, and more. Participate in user discussion groups to learn about best practices, shortcuts, and tips for building the ultimate eLearning course.
Take advantage of our free 30-day trial of Articulate Storyline and
free support throughout.